26 Dublin Street is perfectly situated in Edinburgh's vibrant city centre. It is five minutes' walk from the shops and restaurants in George Street and just a couple more from Edinburgh's main station at Waverley.
Maximum of 8 people
TV/AV Equipment
Self-Serve Coffee/Tea/Water Included
2 Walker Street, Edinburgh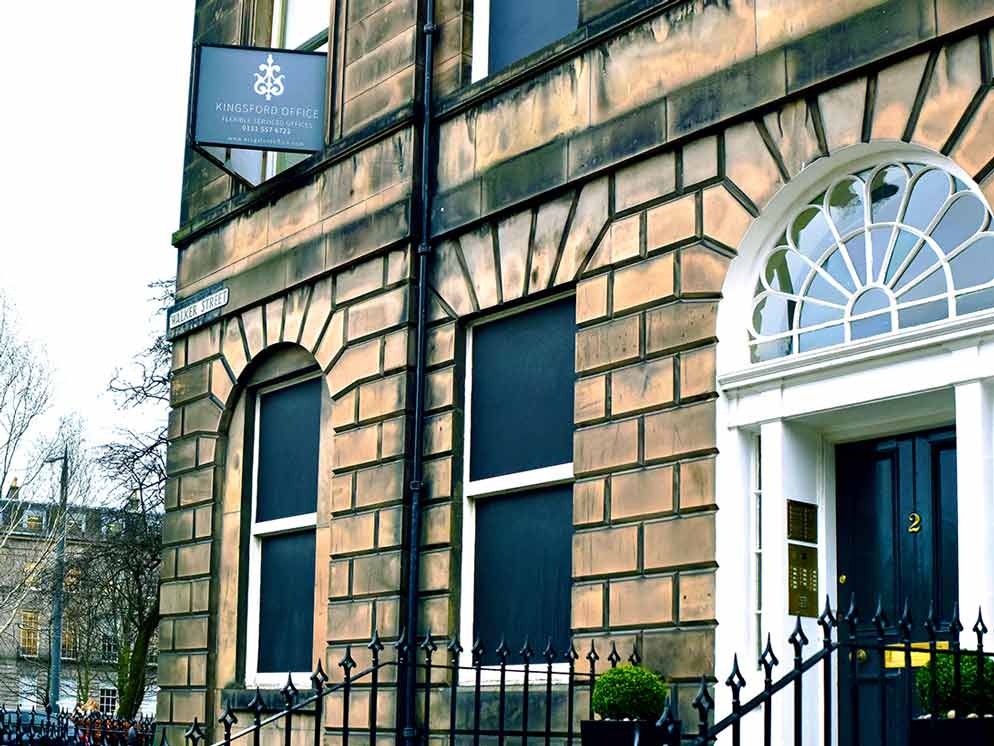 2 Walker Street Located in Edinburgh's West End, within touching distance of Haymarket Station and even closer to the nearest tram stop. Our elegant boardroom is suited for all occasions.
Maximum of 15 people
TV/AV Equipment
Self-Serve Coffee/Tea/Water Included
Where are your On demand options?
We have a meeting room at two of our locations - 26 Dublin Street, Edinburgh, EH3 6NN and 2 Walker Street, Edinburgh, EH3 7LB.
In addition offer Coworking day passes at our Dublin Street Business location for £60 per day excluding VAT and we also offer Day Offices.
How long can I book the Meeting Rooms for?
As long as you want (depending on availability). The rooms can be booked by the hour, for a morning or afternoon, or for the day.
How can I book a Workspace?
You can book a meeting room, Coworking desk or Day Office by emailing us at "office@kingsfordgroup.com".
Can I take a look at your options before booking?
Of course, give us a call on 0131 297 0255 or use our contact page to arrange a viewing and we'll be happy to show you around.
Are there any refreshments provided?
Yes, we offer a selection of Self Service teas, Nespresso coffees.
Can you provide catering?
No, however you are welcome to bring in or arrange your own catering or we can recommend good local eateries.
Do you have Conference Call Facilities?
Both our meeting rooms have TVs that you can use for Zoom, Skype or Teams calls.
Is there a Projector?
We do not have a projector in any of our meeting room spaces, however they are equipped with HD TV monitors which can be connected to a laptop via an HDMI cable.